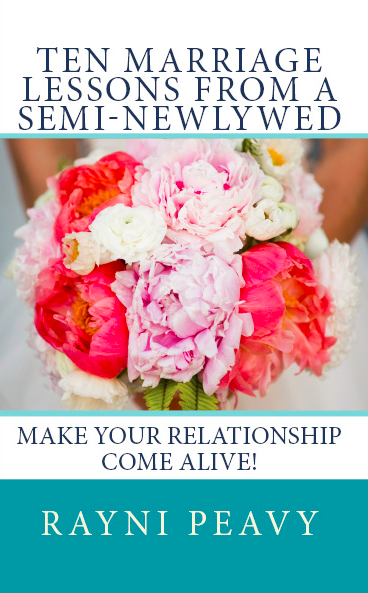 I'm excited to share that I have a new book called Ten Marriage Lessons From a Semi-Newlywed: Make Your Relationship Come Alive! It's a collection of ten of my most popular marriage articles.
It is available right now on Amazon and Kindle. Click here to buy on Amazon.

It makes a great gift for anyone who is engaged or married, and also for singles who want to prepare for a healthy marriage.
Here's more from the back cover…
Ten Marriage Lessons From a Semi-Newlywed is a quick and encouraging read full of biblical wisdom for real life situations. With a friendly yet no nonsense approach, Rayni will help you discover what it takes to create and sustain a healthy and thriving relationship. Whether you are single or engaged, have been married for two weeks or 40 years, these lessons relate to every relationship.
Some of the subjects covered include healthy communication, forgiveness, emotional health, financial health, ways to stay connected, speaking well of each other, joyfully serving and receiving, and more!
I hope you will enjoy reading it and giving a copy to someone who could use some hope and encouragement in their relationship!
What people are saying about Ten Marriage Lessons From a Semi-Newlywed…

"Rayni's straight shooting no-nonsense approach kept me hooked from the very first paragraph. I am beyond the semi-newlywed years and I learned a truck load that I am taking to heart and applying as we speak." -Shelley
"I've been married for over 21 years and was challenged to be a better wife to my husband while reading this book! The wisdom that Rayni shares is timeless and relevant if you're an actual newlywed or one who's been married for much longer. I highly recommend this book to anyone who wants to have a strong marriage relationship!" -Heather
"Each concise lesson has a nugget from the Holy Spirit to apply in every relationship. This book is saturated with truths about love, giving, forgiveness, and honor. This book is not about just facts, it is about freedom! It gives us tools for choosing to act and walk out love as God would have it!" -Kiersten
"I love this book! Rayni offers practical, doable advice that will empower and give hope to any marriage. She has thought through many issues and gives sound wisdom to anyone who is serious about having a successful marriage." -John
"Solid advice, humor, and practical applications made this book an easy, delightful read. Although I've been married for almost 30 years I found many of Rayni's lessons applicable to my marriage – and I was deeply encouraged by her wise and godly advice." -Paula
"Rayni provides thoughtful applications that are both doable and relevant. As a newlywed myself, I appreciate the recommendations this book provides." -Jennifer